Here we are a fan of milk in all its forms, in the dairy, in the gondola and also in the movies. Milk is one of the basic beverages of mankind, its properties and nutritional value have been enjoyed by all tribes and cultures since the beginning of time. Its traditional use in the animal kingdom (including mankind) seems to reflect an aspect of innocence and youth, with its maternal implications being its supposed association. Milk seems to be one of the few things that unite all mammals; we all drink our mother's milk (although humans are the only odd species to drink the milk of other animals).
But what about milk in movies? When its traditional connotations are subverted, the results can be quite disturbing. Something of an inside joke on the Internet in the modern era, drinking milk as an adult has become a comedic taboo. While this doesn't have everything to do with its cinematic use, it still helps to note the benignly evil implications it can have on characters.  Often milk ends up becoming a key symbol of identity in some characters, as it is in A Clockwork Orange, Alexander DeLarge's group are always drinking milk, sometimes it can feel almost ironically so.
Without further ado, eDairy Market presents you today with a list of 10 key moments in cinema in which milk takes center stage:
1. The Big Lebowski, 1998
A dairy case of mistaken identity
Okay, actually drink half and half, but you can still see the milk in this beautiful dairy island shot! In this movie, Jeff Lebowski, played by Jeff Bridges, is mistaken for a millionaire of the same name, which results in two guys breaking into his apartment, demanding money and turning his whole life upside down. Maybe that's the case in this scene? Maybe he mistakenly thought the half and half was milk?
2. Catch Me If You Can, 2002
Leo agrees that milk is delicious? even at 40,000 feet!
Leonardo DiCaprio, who plays Frank Abagnale, puts his con man ways to the test when he boards a plane. When the flight attendant asks him what he'd like to drink
3. A Clockwork Orange, 1971
Evil psychopaths can enjoy a glass of milk too, right?
…but not ordinary milk. Malcolm McDowell, who plays Alex DeLarge, and his "droogs" visit the Korova Milk Bar, where they drink a tall glass of milk laced with mind-altering substances. These "substances" eventually lead them to do some pretty complicated things, like violently breaking into a couple's house while singing the song "Singin' in the Rain." Here's some free advice: if you're looking to mix something with milk, we suggest chocolate.
4. Singin' in the Rain, 1952
Singin' in the… milk?
Speaking of Singin' in the Rain, milk also appeared in this movie? but not for drinking. Since water is hard to see on camera, it is believed that milk was added to make it easier to see. We definitely agree that the milk is more photogenic…. especially with Gene Kelly dancing in it!
5. Garfield: The Movie, 2004
A milk truck… a milkman… drinking milk? What a way to start a movie!
Garfield is a cat who truly shares our love of milk! So much so that he even builds a contraption to steal the neighbor's milk while also betraying his cat friend, Nermal.
There's always milk for everyone Garfield!
6. Rebel Without a Cause, 1955
It's time to dig deeper…
In Rebel Without a Cause, Jim Stark, played by the iconic James Dean, drinks milk straight from the bottle. Film experts say it symbolizes the need to find nourishment in the form of love and help, guidance and acceptance during a critical time in the character's development.
7. Snow White and the Huntsman, 2012
In a quest to find eternal youth, Queen Raveena, played by Charlize Theron, dives into a bath full of milk… and why wouldn't she? And why wouldn't she? Milk has NINE essential nutrients!
8. Bruce Almighty, 2003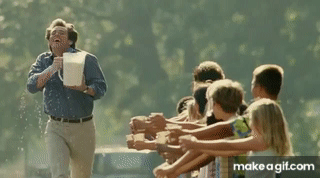 Jim Carey, who plays reporter Bruce Nolan, covers a story about a local bakery that broke the record for baking the biggest cookie in Buffalo!…and what better companion for a giant cookie than LOTS of milk!
9. Home Alone, 1990
Don't cry over spilled milk… or tickets.
Macaulay Culkin, playing Kevin McCallister, shoves his brother Buzz because he didn't save him any pizza (mmmm!). Buzz goes back to the milk cups, spilling them all over the counter. Now take a closer look: while cleaning up the mess, they accidentally throw away Kevin's plane ticket.
10. Napoleon Dynamite, 2004
Using milk as his sidekick, Napoleon delivered the best pickup line of all time!
The struggle is real when the socially awkward Napoleon Dynamite, played by Jon Heder, tries to start a conversation with Deb. He realizes she is drinking milk and uses it as a way to flatter her figure.
What's your favorite scene?
Sources:
American Dairy Association North East
---
✅ At eDairy Market we have all the dairy categories, all the products and all the companies. We represent you.
✅ Power your business through eDairy Market:
Your microsite with products, brand and domain of your company at a minimum cost.
You will be able to sell your products and we do not charge you commission per sale.
Now you can sell your Products, Ingredients and Dairy Machinery in English, Spanish, Portuguese and Mandarin Chinese.
✅ Create your own online store in a super easy way: