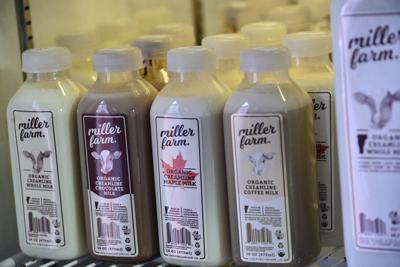 That's the message from the Northeast Organic Family Farm Partnership, which was formed following the announcement from Horizon Organic and Maple Hill Creamery that they are ending contracts with 135 farms in the Northeast by 2023.
"It was a clarion call," said Gary Hirshberg, one of the co-founders of Stonyfield Farms, who is organizing the Organic Family Farm Partnership. "The shocking part of this was the scale. It's been a very sad and scary time for those farms ever since."
Since the announcement, Stonyfield has said it will buy milk from some of the farms directly through its Direct Supply Program and through Organic Valley, an independent cooperative of organic farmers based in La Farge, Wisconsin, which already supplies milk to Stonyfield.
But Stonyfield and other processors of organic milk can only handle so much supply, so Hirshberg and the Partnership are reaching out directly to consumers to help do their part to save small farms in New England.
"This is a solvable problem," said Hirshberg. "If one quarter of all New England consumers increased their purchases by one organic milk item a week, it would solve this for these 135 farms."
In 1983, Hirshberg founded Stonyfield Farms in Wilton, N.H., with seven cows and Samuel Kaymen.
In 2001, Danone, which owns Horizon Organic, bought a 40 percent stake in Stonyfield, and another 40 percent three years later. Hirshberg, who is still chairman of Stonyfield, sold his and his family's 20 percent stake in 2014, giving Danone 100 percent ownership. In 2017, Lactalis, which is based in France, bought Stonyfield, with $370 million in annual sales, from Danone for $875 million. Lactalis also owns Commonwealth Dairy, a yogurt maker in Brattleboro.
"To me, the problem looks pretty simple," said Hirshberg. "We need to grow demand. We need consumers to say, 'this is one problem we can solve.'"
The Partnership is the first of its kind, a collaboration of farmers, processors, activists, government agencies and consumers coming together to help save organic farms.
The Partnership is asking brand partners in the Northeast to purchase 50 percent of their milk from organic family farms in New England and New York state. It is also asking grocers, restaurants, cafeterias, and any outlets that sell dairy products to consider becoming licensed partners by committing by increasing their organic dairy purchases.
In the last nine years, Vermont has lost more than 390 individual dairy farms as food production has largely been ceded away from small families, and into large, agri-business operations, states information from the Partnership.
In New Hampshire, said Hirshberg, the state has lost 300 of its 400 dairy farms since 1983.
Stonyfield receives 80 percent of its milk from Organic Valley from 2,000 family farms.
Just the same, organic dairy products account for only 6 percent of the market, he said.
"When you shop, you can vote for milk that comes from Colorado or you can vote to support farms like Abbie and Pete and their families," said Hirshberg.
Leon Corse and his daughter, Abbie, of Corse Family Farm in Whitingham, are members of the board of the Partnership.
Peter Miller, of Miller Farm in Vernon, which is a direct supplier of milk to Stonyfield, is an advisor.
"The initiative is an attempt to remind people the power of their dollars in supporting their local farmers," said Miller. "It asks local people to put their local money into what goes into their mouths. Those local dollars mean the world to us farmers in the Northeast. It really is a matter of our long-term survival versus mega-farms from out west."
Abbie Course said she and her father lend "a multi-generational" perspective to the partnership.
"One of the most consistent challenges we face as an Organic Valley farmer is helping communities to understand Organic Valley milk is local and regional milk," she said. "Your purchase supports family farms like ours.
Organic Valley is a cooperative of nearly 1,800 family farms and 955 employees across the country.
"Even though this is a national cooperative, when you are picking up that carton, you are keeping families like ours in business," she said.
Having Hirschberg and Stonyfield out front, said Course, is a great way to demonstrate the link between brands and their sources.
"My personal favorite is Organic Valley's half and half," said Course, with a laugh thinking about her mom asking why a dairy farmer needs to buy cream. "It's my splurge. My dad is fond of their chocolate milk."
Fortunately, said Leon Course, being an Organic Valley member means they weren't affected by Horizon's decision. He hopes that with this new marketing program, those farmers could join the co-op if the market expands.
"It's vitally important if we are going to stay in business," he said. "We need to have people buy our products."
Diane Bothfeld, the director of dairy policy for the Vermont Agency of Agriculture, Food and Markets said there are 28 Vermont farms affected by the Horizon decision.