Field Snapshot: Crop harvest is ongoing, or just about to get started, on the Field Snapshot farms.
It's getting to be crunch time for our Field Snapshot producers.
It's almost time to chop corn silage on William Thiele's 80-cow, 300-acre farm in Cabot, Pa.
It's been a hot, dry summer on his farm, and he recently ran out of corn silage to feed the cows. Chopped hay has been aplenty, though, especially considering it is third or fourth cutting.
"We run a pretty strict feed ration, and we hold pretty steady to that," Thiele says, adding that milk production has remained about 95 pounds per head despite the hot summer.
The brown midrib corn silage, which he switched to a few years ago, has been replaced in the total mixed ration with dried shelled corn. He's made many changes to his cows' feed ration over the years, mostly with success.
Several years ago, his dairy nutritionist convinced him to plant high-oleic soybeans for higher butterfat content. The soybeans are harvested, roasted by a neighboring farmer and then fed. Thiele says that feeding the soybean meal has helped raise the butterfat content from his Holsteins to about 4.3%.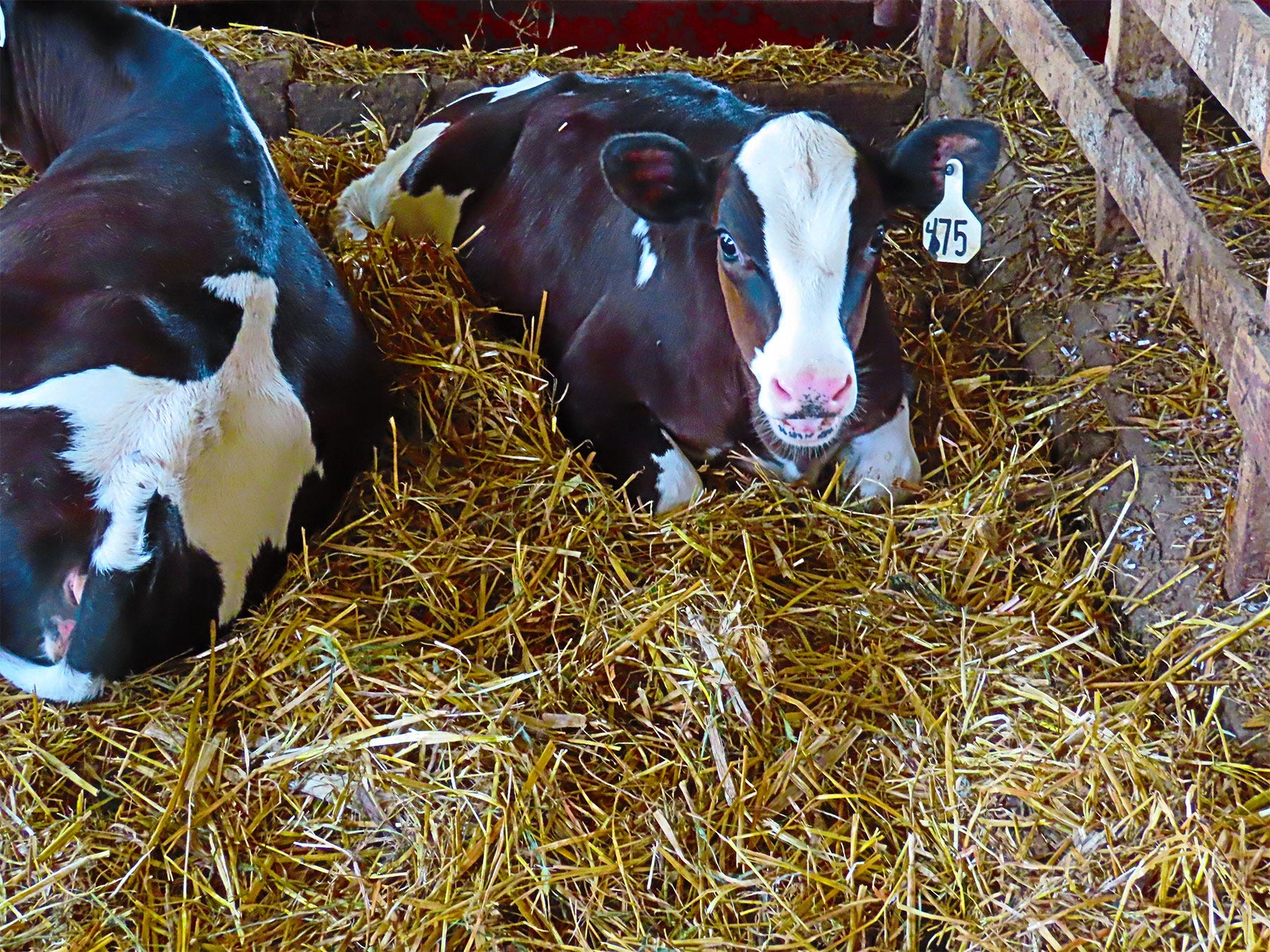 MORE BUTTERFAT: Several years ago, Thiele's dairy nutritionist convinced him to plant high-oleic soybeans for higher butterfat content. Thiele says that feeding the soybean meal has helped raise the butterfat content from his Holsteins to about 4.3%.
Along with BMR corn silage, dried shelled corn and various minerals, the TMR also includes chopped hay and low-lignin alfalfa.
"Ten years ago, I didn't grow any of this," Thiele says. "Now, I'm growing all of this."
Once chopped, the corn silage will be stored in upright silos and then fed green using a conveyor that moves the chopped silage as needed into the TMR mixer.
"We will feed it green as it ferments," Thiele says. "We haven't had too many issues with that. They [cows] don't seem to lack too much in production from that."
Any day now, Thiele will start chopping silage using his New Holland 790 pull-behind two-row chopper. The corn silage looks good tonnage wise, he says, but the shelled corn is a little more variable.
His soybeans are turning yellow, but he expects below-normal yields because of the drier-than-normal summer.
"The home ground usually gets a little manure," Thiele says. "Those beans look pretty good. But some of the rented ground we have … they don't look good."
Busy apple harvest
The Gala harvest is nearly complete on David Wenk's Three Springs Farm in Gardners, Pa., but Honeycrisp and more than 30 other varieties will keep him busy for the next month or two.
It's been an up-and-down year. First, an early spring brought fears of frost and freeze damage. Then, the early-season drought forced him to irrigate his earliest peaches, something he had never done before. The rains finally arrived, leading to an exceptional peach crop made better by good market prices from peach crop shortages in Georgia and South Carolina.
Apples filled out nicely, too, he says, but an abundance of regional apples — especially for processing — may depress prices.
Wenk says his farm has seen less rainfall this season, but the timing of the rain has been critical. Many of his apple trees were starting to wilt in the gravelly soils of his farm. Some were even close to dying. But rain came just in time to save the day.
"We were blessed with enough rainfall to have good size and good quality," he says. "If we got tons of rain, Gala and Honeycrisp would just crack with too much. A lot of rain at the wrong time will make them crack, and the juice market is not any good right now."
Along with the 30-plus apple varieties that go for fresh market and processing, Wenk also harvests 6 acres of apples for his family's apple cider business, Ploughman Farm Cider. These apples are harvested for very different reasons. For example, crab apples, known for their bitterness and sour aftertaste, make a good apple cider when blended with other ingredients.
Too much rain?
It's been a tale of two seasons on Dave Hunsberger's farm in Millerstown, Pa.
He grows 325 acres of hay, non-GMO corn, barley and grain sorghum. He only planned to grow 20 acres of sorghum this season, but the early-season drought got so bad that he took out 40 acres of what would have been corn and instead planted sorghum, a more resilient crop in hot and dry conditions. It was planted in 15-inch rows in barley stubble.
Hunsberger plans on marketing his 60 acres of iGrowth sorghum through a firm in Berks County that will sell it for birdseed or pet food.
How's the sorghum looking? So far, so good; maybe even too good. The farm has seen plenty of hot days and rains have come at the right time, but some of the sorghum he plans on combining for grain has started to lodge, he says, which could create issues when it's time to harvest.
Corn silage chopping will start soon, Hunsberger says, and it looks like the corn has rebounded from a slow start. Normally, he has enough corn to sell to other farms, but he is expecting to store all the corn this year for his cattle.
He sold his dairy cows in 2019 and now backgrounds beef cattle for Wild Rose Horse and Cattle Co. in Dry Run, Pa. He feeds anywhere from 235 to 250 cattle at any time. The cattle come in, get weighed and are weighed again once they are shipped out for finishing. Hunsberger gets paid the difference for weight gained.
"They are looking pretty good," Hunsberger says. "It's amazing the difference in genetics. The ones more prone to grass genetics, there is a distinctive difference in how fast they gain."