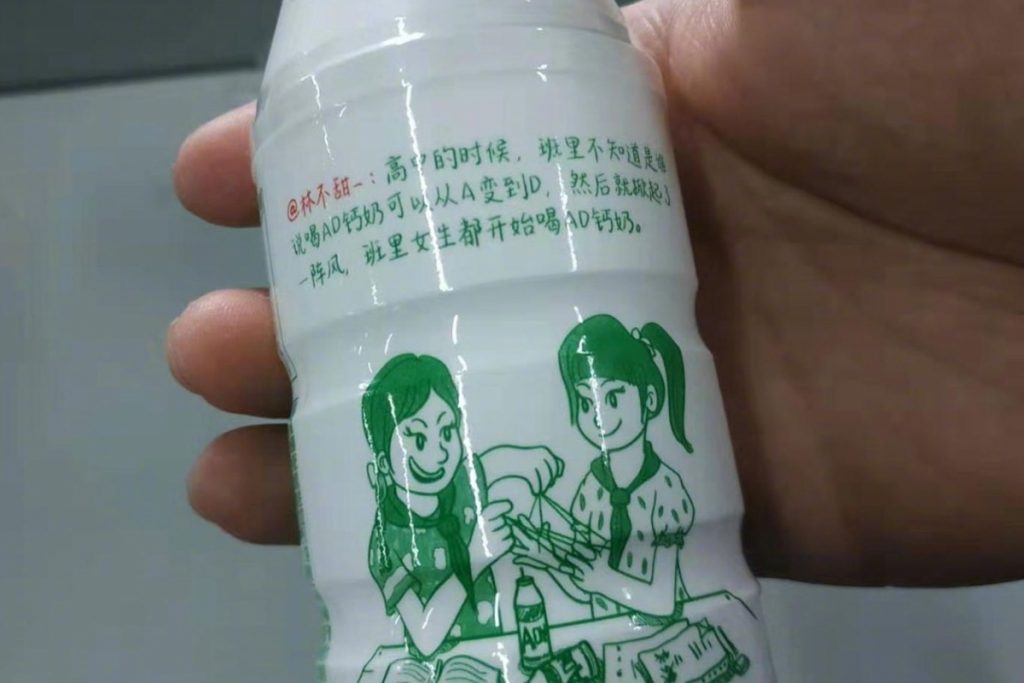 Company has stopped producing the packaging carrying a 'consumer quote' saying its Vitamin A&D Calcium Milk can help enlarge cup size from A to D.Advertising on product popular with children has been widely criticised as misleading and inappropriate.
Public outrage has forced Chinese beverage giant Hangzhou Wahaha to remove a "consumer quote" from the packaging of a milk drink that said it could enlarge breasts from an A cup to a D.
The advertising on Vitamin A&D Calcium Milk – a popular drink for children – has been widely criticised as misleading and vulgar on social media this week.
The label on the bottle reads: "When I was in high school, someone in my class said drinking Vitamin A&D Calcium Milk can help [your cup size] grow from A to D. That started a craze in our class and all the girls starting drinking it."
Claiming to be a real quote from a consumer, it is accompanied by an illustration of two schoolgirls playing a game of cat's cradle.
But it has met with a backlash from consumers, who have complained it is misleading and inappropriate for a product targeting children to carry a message about breast enhancement.
Wahaha, the largest beverage maker in China, apologised on Tuesday, saying it had stopped producing the packaging.
In a statement on microblogging site Weibo, the company said it was part of a series of new labels launched in August that carried different quotes about the product from consumers.
"Each and every quote used is selected from internet users' comments and we have obtained their permission to use them – it's not a slogan," the statement said.
"Our intention in putting these quotes on the packaging was to share sweet memories about the drink, with which a generation has grown up," it said.
Last month, the producer of China's most popular coconut milk had to remove risqué advertising that prompted fierce public criticism over its claims that the drink could enhance breast size.
Hainan Coconut Palm Group was mauled on social media for its ads featuring large-breasted women in skimpy tops alongside slogans such as "Drink one can every day, [your] curves will excite people, whiter and more plump", "I drink from small to big", and "Drinking more coconut milk every day can make [your] breasts fuller".