For more than 40 years, Mark Billing's family has carefully selected the genetic profiles of their milking cows, ensuring their physical attributes and production potential are finely matched to the conditions at his Colac farm in south-western Victoria.
But dairy farmers such as Billing fear their hard work over generations will be lost if the foot and mouth livestock disease ravaging Indonesia arrives in Australia.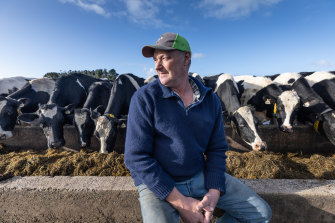 If there was an outbreak on his farm, Billing would have to euthanise all 420 cows in his milking herd, which produces more than 3 million litres of milk a year. Billing said he could not imagine the emotional toll of losing his animals.
"It would take years to get back to our productivity level," he said. "I don't know how I'd take it."
On Wednesday, dozens of farmers rallied in Colac, calling for a temporary closure of borders with Indonesia for recreational travellers. However, the National Farmers Federation has consistently said the border should remain open.
Billing, a fourth-generation farmer, runs a "closed herd", which means he impregnates his cows through artificial insemination rather than buying in cattle.
This helps to avoid biosecurity risks that come with bringing outside animals onto his farm. He also breeds cows to produce maximum fat and protein content in their milk.
"Our main aim is to keep that genetic merit in our herd."