It's not a secret that a lot of corn goes into producing ethanol. However, there's a new player in town, and while still in the minor leagues, it could be pioneering the way for major changes in the dairy industry.
Using technology developed by Dairy Distillery, a Canadian company, Michigan Milk Producers Association is expected to break ground this year on a facility to transform a byproduct of milk and other dairy processing into ethanol — the first of its kind in the U.S. There's only one plant in Ireland and two in New Zealand using the process.
For the four-state cooperative, which includes about 1,000 dairy farmers marketing 5 billion pounds of milk annually, the move constitutes a total capital investment of $41.1 million for a distillery, which will be located and complement MMPA's current processing plant in Constantine, Mich. It's expected to create 12 full-time jobs.
The plan has been in the works for years and was initially sparked by Dairy Distillery's work to turn milk permeate in Canada into vodka with the brand name Vodkow.
In the U.S., more than 500,000 tons of permeate are produced annually, including 14,000 tons from MMPA's Constantine plant, which produces ultra-filtered milk, a high-protein milk used in cheese and yogurt production.
The byproduct of ultra-filtered milk production is a lactose-rich liquid called milk permeate. "We knew we couldn't turn it all into vodka, so we hired a biofuel specialist to study its application to fuel cars," says Omid McDonald, Dairy Distillery CEO.
MMPA also has plants in Ovid, Mich.; Canton, Ohio; and Middlebury, Ind., which produce fluid milk, cheese, ice cream, butter, nonfat dry milk, cream and condensed skim milk. 
Joint venture
Dairy Distillery Alliance LLC is a joint venture between MMPA and Dairy Distillery USA, and while the new end product is ethanol, the motive is far beyond adding value to a byproduct largely sold as animal feed.
MMPA's Constantine plant's milk permeate is essentially carbon neutral, which allows for the creation of near carbon-neutral ethanol.
"We wouldn't be able to compete with corn, and we wouldn't do this project if it wasn't for the carbon footprint aspect," McDonald says. "When someone makes ethanol from corn, they must account for all the carbon emissions to produce that corn. Since we are using a byproduct, our sugar is carbon neutral, and so that makes our carbon footprint of permeate ethanol about one-tenth of corn ethanol. The point of blending ethanol with fuel is to lower the carbon footprint, so permeate ethanol is far more effective."
However, it has no intention of competing with corn ethanol for production, as Constantine's production is "just a drop in the bucket. … It's just 2.2 million gallons, whereas a typical corn ethanol plant would do 100 million gallons," McDonald says. "The focus of this is the carbon reduction."
The plant will use its waste to generate 14,500 tons of carbon reduction, which is 5% of the carbon footprint of the milk processed at Constantine.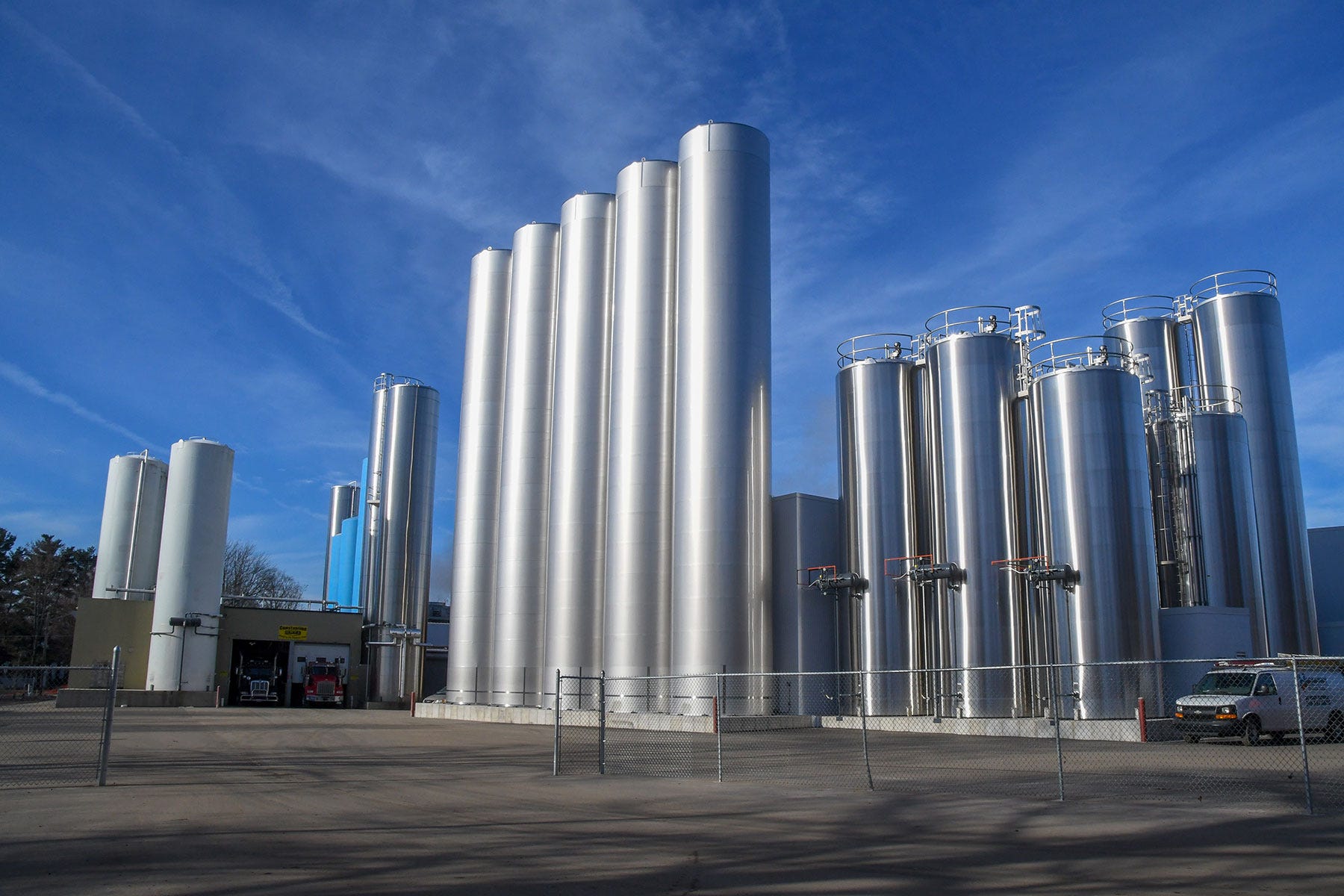 Currently, most fuel is 10% ethanol. "That lowers the carbon footprint of that fuel by keeping it [carbon/oil] in the ground," McDonald says. "By using this source of ethanol, we are reclaiming carbon from the atmosphere, turning it into grass, which cows eat to produce milk. When you burn the ethanol, it essentially puts the carbon back into the environment, but we're not adding new carbon."
Permeate ethanol will be sold as a commodity to local Michigan fuel blenders like corn ethanol. Carbon credits can also be sold.
The project received $2.5 million in funding from the Michigan Strategic Fund and expects additional financial support from the U.S. Inflation Reduction Act for biofuel production tax credits.
Wastewater solution
Dairy Distillery Alliance also includes a new wastewater treatment plant, allowing the system to be self-contained and not reliant on the Three Rivers municipal system it currently uses in collaboration with the village of Constantine.
The distillery waste would be combined with Constantine's existing dairy effluent and fed to a wastewater system, which would produce methane to power the stills and make the remaining water safe for river discharge.
"The outcomes are low-carbon ethanol, carbon credits and clean water discharging to the local river," McDonald says.
MMPA President and CEO Joe Diglio says, "Ultra-filtered milk from our Constantine plant continues to be in high demand; this will allow our members to grow without set restrictions on volume based on the ability to handle wastewater."
The move to produce ethanol is one step, Diglio says, to reduce dairy's carbon footprint and its commitment to be carbon neutral by 2050.
"This is a real tangible effort by MMPA on the processing level to reach that goal, in addition to all the efforts being made at the farm level," McDonald adds.
There are multiple tentacles on the revenue stream for not only the end product, but also on the carbon sequestration side of it. "You wind up benefiting immensely on overall return on the project — it's a win-win," Diglio says. "It's exciting to see innovative solutions such as this facility, which lead to growth and success for our members, employees, stakeholders and our communities."
McDonald hopes the project will be the first of many permeate ethanol plants creating value for dairy farmers and significant carbon reduction. "It's an amazing story that started with a shot of milk vodka," he says.