According to data provided by food commodity price database Mintec, milk prices in India rose from 46 rupees per liter to 53 rupees per liter from November 2021 to the start of May.
India, the world's dairy powerhouse, is facing an increase in milk prices, and it's not expected to ease up until November.
"In the last 15 months there has been [an] extraordinary increase in milk and dairy products, around 14-to-15%," said RS Sodhi, former managing director of India's number one dairy company, Gujarat Cooperative Milk Marketing Foundation.
The price spike comes on the back of higher feed costs, an increase in demand for ice cream, and a contagious cattle disease, amongst other factors.
India, the world's leading producer of milk, accounts for 22% of global milk production and followed by the U.S. China, Pakistan and Brazil.
According to data provided by food commodity price database Mintec, milk prices in India rose from 46 rupees to 53 rupees per liter (between $0.55 to $0.64) from November 2021 to the start of May.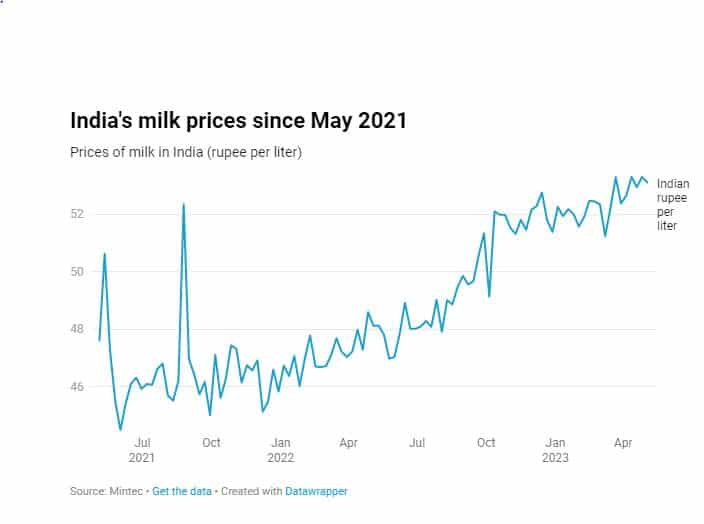 This is an economic squeeze to Indians who are the world's largest milk consumers.
"In India, every household buys milk everyday. Per capita consumption is around 440 grams per person per day. Every Indian starts [the day] with milk," said Sodhi.
"In the morning people drink milk, from the bottle, or in tea and coffee … a lot of Indian desserts are mostly made out of milk only," he added. Other milk-based local favorites include paneer, ghee and yogurt — all of which are staples in Indians' regular diets.
Higher feed costs
Higher cattle feed prices that coincide with the peak demand season are feeding into the spike in milk prices.
"An upturn in feed prices has discouraged farmers from providing their cattle with sufficient feed," said Matthew Biggin, commodities analyst at Fitch Solutions' research unit BMI.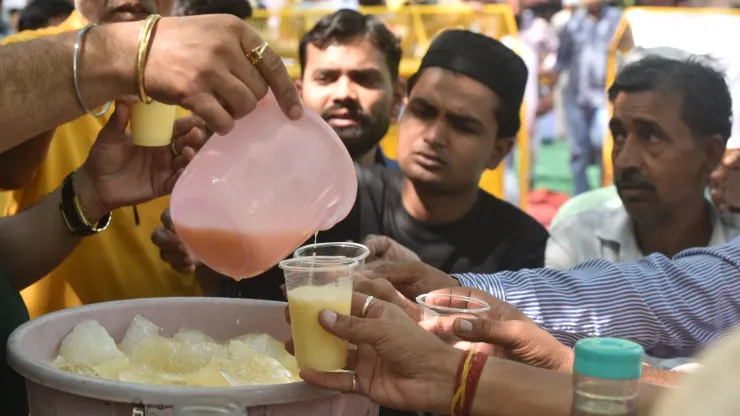 Cattle feed is commonly made up of corn, wheat, rice and oats, amongst other grains, according to India's National Dairy Development Board. A lot of those ingredients saw large spikes in the middle of last year and remain at heightened levels. Some of the price hikes were driven in part by Russia's invasion of Ukraine, which disrupted supply chains and drove up prices.
On top of rising feed costs, cattle farmers also had to face higher transport, storage and energy prices, Biggin said.
Plagues and pandemic
Even before the increase in input costs, the dairy sector was already reeling from the effects of the pandemic.
"The sector was already under pressure, still feeling the effects of the pandemic where demand was hit, putting smallholder farms, which make up a significant part of the Indian dairy sector, under financial strain and driving a reduction in the pace of breeding," he said.
Additionally, millions of the country's dairy herd population were plagued by lumpy skin disease, which led to blisters and reduced milk production in cattle stock.
"Lumpy skin disease is estimated to have killed or emaciated over 300,000 cattle last year, negatively impacting milk production," Mintec's Dairy and Pork Analyst Sandro Schulz said.
Prices to go down after November?
India's milk output will "likely remain pressured" and increase the country's import dependency, BMI's Biggin said, especially as the sector enters peak demand season.
"An uptick in demand for products such as ice cream as the country enters the summer months, and then the following religious holidays where milk-based sweets are a staple, [alongside] limited domestic supply will continue to support prices throughout 2023," he predicted.
Mithai, at Chandu Sweets, Teenbatti, Walkeshwar. (Photo by Anshuman Poyrekar/Hindustan Times via Getty Images)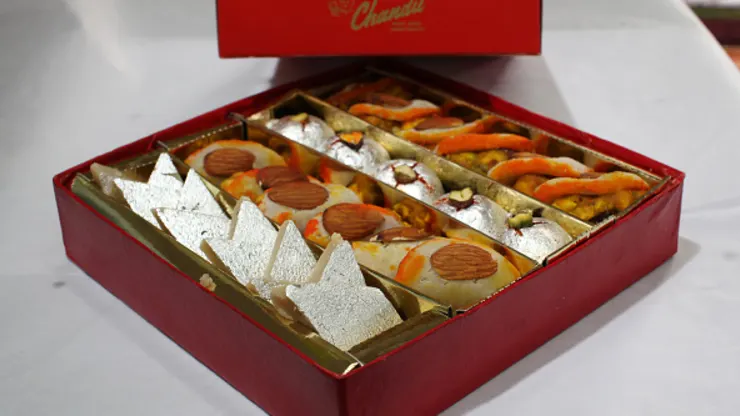 Diwali, also known as the Festival of Lights, is one of the largest religious celebrations in India and will be celebrated by Hindus, Jains and Sikhs all over the world in November. Central to the festivities is the Indian sweet Mithai, primarily made from milk, flour, ghee and sugar.
"That said, as prices remain elevated, consumers will be incentivized to substitute for alternative products and limit their consumption, helping to keep a lid on more substantial increases," Biggin said.
Likewise, Sodhi expects prices to go down after Diwali, which falls in November this year. Milk prices could fall by 2 to 3 rupees per liter to around 50 rupees per liter, he said.
"After Diwali, prices will be stabilized — may go down, but I don't foresee a major decline."