The volatility and uncertainty of many markets remained through this year. However, dairy markets were less volatile in the underlying cash markets even though there was more volatility in the futures markets.
Cheese prices did not add much to the volatility experienced during the year even though milk futures showed more price movement. In fact, block cheese showed one of the flattest years we have seen for quite some time. Price remained entrenched in a sideways range for much of the year as seen by the daily chart below. There were a few times of prices breaking out above or dipping below, but those did not hold.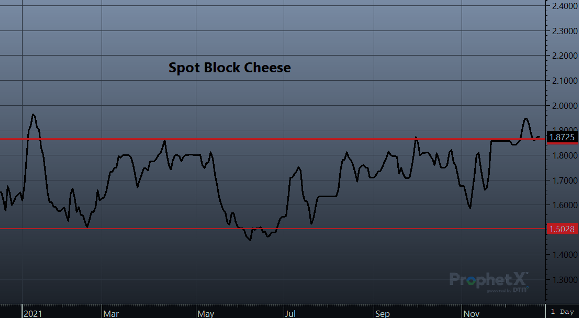 Although cheese prices remained in a range of about 30 cents, the price swing of Class III Federal Order prices through November ranged from $15.95 in August to $18.96 is May, a range of $3.01 per cwt. With a little over one week remaining before the December Federal Order class prices will be announced, it indicates the greatest Class III price for the year will be $18.96.
Barrel cheese prices over the course of the year showed a greater price swing remaining in a larger range than blocks with a price swing from high to low of 55 cents. Federal Order Class IV prices ranged from $13.19 to $18.79 so far this year. December will be the highest price of the year and will be announced on January 5, 2022; around $19.85 or a price swing of $6.66 for the year.
There has certainly been movement but without the volatility seen most years. However, both Class III and Class IV futures indicate the potential for better milk prices in 2022 if current prices hold. As always, there are many factors that can affect the market throughout the course of the year. Feed prices may have the largest impact on milk prices and profitability.
The November Milk Production report did continue to show a reduction in the nation's dairy herd with cow numbers now down 47,000 head from a year earlier. The surprise on the report was that it only showed milk production down 0.4% from November 2020. USDA made a huge revision to the October report. The revision resulted in milk production for October 110 million pounds higher that it was initially reported. Instead of a decrease in production of 0.5% as reported in October, production was 0.1% above a year earlier. Instead of production per cow being 6 pounds below October 2020, it was actually 6 pound above.
This is one of the largest revisions I have seen to a previous month's report. Fortunately, that has not had much impact on the market, but it does indicate that milk production is holding well. Prices have been able to hold even though demand for the holidays has been filled. Buyers have been actively looking ahead to the first quarter of 2022 and have been increasing ownership as a hedge against possibly higher prices and tighter supplies. How quickly farmers may react to higher milk prices will be uncertain as we move through the year.
Robin Schmahl is a commodity broker with AgDairy, the dairy division of John Stewart & Associates Inc. (JSA). JSA is a full-service commodity brokerage firm based out of St. Joseph, MO. Robin's office is located in Elkhart Lake, Wisconsin. Robin may be reached at 877-256-3253 or through the website www.agdairy.com.
The thoughts expressed and the basic data from which they are drawn are believed to be reliable but cannot be guaranteed. Any opinions expressed herein are subject to change without notice. Hypothetical or simulated performance results have certain inherent limitations. Simulated results do not represent actual trading. Simulated trading programs are subject to the benefit of hindsight. No representation is being made that any account will or is likely to achieve profits or losses similar to those shown. There is risk of loss in trading commodity futures and options on futures. It may not be suitable for everyone. This material has been prepared by an employee or agent of JSA and is in the nature of a solicitation. By accepting this communication, you acknowledge and agree that you are not, and will not rely solely on this communication for making trading decisions.