This will be the fourth IPO to raise over US$1 billion in Hong Kong over the past two months.
​China Feihe, whose baby milk formula is endorsed by actress Zhang Ziyi, is making a second try at selling shares on the Hong Kong exchange, joining the flock of initial public offerings that have pushed the city past Nasdaq and New York as the world's fundraising hub since September.
Feihe – its name means the "flying crane" in Chinese – is offering 893.34 million shares at between HK$7.50 and HK$10 each, aiming to raise up to HK$8.93 billion (US$1.14 billion), according to the offer document seen by South China Morning Post.
The Beijing-based company started collecting subscriptions on Monday from global investors for 90 per cent of the offering, while 10 per cent of the sale would go to retail investors. The shares will begin trading in Hong Kong on November 13.
The upcoming IPO makes Feihe the fourth offering in Hong Kong to exceed US$1 billion in value, after several companies made U-turns on their earlier hesitation to raise capital in the city. The September 4 announcement by Hong Kong's Chief Executive Carrie Lam Cheng Yuet-ngor to withdraw her unpopular and controversial extradition bill put a floor on valuations, even if it failed to dissuade the protesters who continued taking to the streets in shows of defiance against her administration.
The top end of Feihe's fundraising plan would make the Chinese company the third-biggest IPO in Hong Kong this year, coming after Budweiser Brewing Company APAC's US$5.8 billion offer last month and ESR Cayman's US$1.6 billion sale last week. Chinese sportswear manufacturer Topsports International Holdings also expects to raise US$1 billion after pricing earlier this month.
Feihe, founded in north-eastern China's Heilongjiang province in 1962, has the biggest market share for baby milk formula and infants' milk in the world's most populous nation, with 15.6 per cent of the market as of 2018, according to research firm Frost & Sullivan.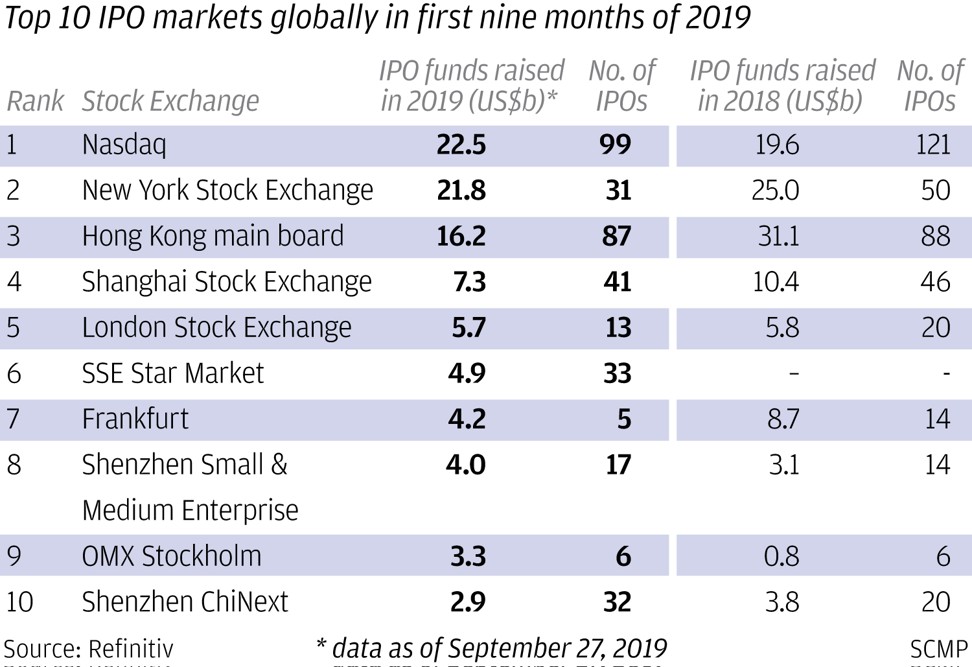 Feihe's first-half net profit rose 61 per cent to 1.75 billion yuan, while revenue increased 34.5 per cent to 5.89 billion yuan through its 109,000 retail points of sale. Brands in its portfolio include Astrobaby and Organic Zhenzhi, while it also manufactures and sells adult milk powders, liquid milk products, goat milk infant formula and soybean powder.
New births declined to 15.23 million last year, the lowest annual rate since China relaxed its decades-old one-child policy in 2014, as a slowing economy increased the financial burden on families. Still, the expanding middle class is spending more on children, turning the high-end segment of China's baby milk formula market into a 199.8 billion yuan (US$28.27 billion) market by 2023, or a compound annual growth rate of 16.6 per cent since 2018, according to Frost & Sullivan.
Zhang, who turns 41 next February, is representative of parents who dote on their children. The actress, who gained global fame with her roles in Crouching Tiger, Hidden Dragon and Rush Hour 2, had a daughter in 2015.
"I could not work for my entire life, but I will be a mother for my daughter my whole life," she said during a publicity event in May for Feihe. "Accompanying my child's growth is the most important career in my life. I am an expert in selecting the best baby milk formula for my daughter, who has been drinking Feihe for many years."
The several mega IPOs over the past two months have pushed Hong Kong to the top of global rankings. The total value of IPOs from September 1 until Monday stood at US$7.9 billion, overshadowing Nasdaq's US$7 billion and US$3 billion at the New York Stock Exchange, according to Bloomberg's data. The main board of Hong Kong Exchanges and Clearing Limited (HKEX), the world's top IPO market six times in the past decade, fell to third place in the first three quarters after Nasdaq and New York.
"The share prices of recent IPOs had not performed well," said Edmond Hui, chief executive of Bright Smart Securities in Hong Kong. "Feihe's fundraising size is huge, which may discourage investors from oversubscribing to it."